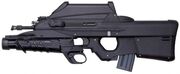 The FN 2000 is a 5.56x45 NATO bullpup assault rifle, designed by FN Herstal in Belgium. It is one of several primary weapons used by John Bradley.
History
[
]
The FN 2000 made its debut in March 2001 at the IDEX defence exhibition held in Abu Dhabi, in the United Arab Emirates.
Conflict: Global Terror
[
]
FN 2000 replaces Bradley's M4A1 in Ukraine. It comes with an FN GL-1, and features full auto, semi auto and an incorrect three-round burst modes.
Gallery
[
]