The 
Five-seveN
 is a pistol that appears in Conflict: Global Terror. It is the secondary weapon of 
David Jones
.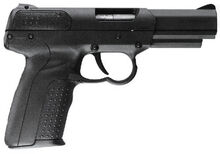 The Five-seveN pistol and its 5.7×28mm ammunition were developed by FN. Sales of the Five-seven were originally restricted by FN to military and law enforcement customers, but since 2004, the pistol has also been offered to civilian shooters for personal protection, target shooting, and similar uses. Although offered only with sporting ammunition, the Five-seven's introduction to civilian shooters was met with vocal opposition from gun control organizations and the pistol has been subject to ongoing controversy in the United States.
Conflict: Global Terror
Edit
Five-seveN is Jones' sidearm in the game and its magazine holds 20 rounds. It features an incorrect three-round burst mode along with single shot. Appears as "FN 57 Pistol". It is also used by some enemies.