The 
Glock 17
 is a pistol that appears in Conflict: Denied Ops.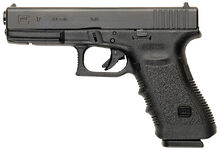 In 1980, the Austrian military announced that it would seek tenders for a new, modern duty pistol to replace their World War II-era Walther P38 handguns. Glock became aware of the Austrian Army's planned procurement, and in 1982 assembled a team of Europe's leading handgun experts from military, police, and civilian sport-shooting circles to define the most desirable characteristics in a combat pistol.  Within three months, Glock developed a working prototype that combined proven mechanisms and traits from previous pistol designs. In addition the plan was to make extensive use of synthetic materials and modern manufacturing technologies, to make it a very cost-effective candidate.Several samples of the Glock 17 (so named because it was the 17th patent procured by the company) were submitted for assessment trials in early 1982, and after passing all of the exhaustive endurance and abuse tests, the Glock emerged as the winner. The handgun was adopted into service with the Austrian military and police forces in 1982 with an initial order for 25,000 guns.
Conflict: Denied Ops
Edit
Glock 17 is used by some enemies.