The M998 Truck is a vehicle featured in Conflict: Desert Storm. It is first seen in the Advanced Weapons Training course where the player learns how to drive vehicles, playing as Mick Conners.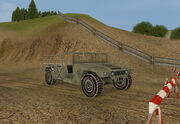 Real World Counterpart
[
]
The M998 is based on a Cargo/Troop Carrier variant of the HMMWV (Humvee) used by the United States Military.[1]