The 
MAC-10
 is a submachine gun that appears in Conflict: Global Terror. It is the secondary weapon of
Carrie Sherman
.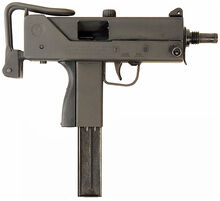 MAC-10 was designed in 1965 and later, Sionics Inc, was merged into the larger Military Armament Corporation in 1970, the MAC-10 was put into production.The MAC-10 was then offered to the U.S. Military during the final years of the Vietnam War as a weapon for special operations and for support personnel.The MAC-10 didn't generate a lot of interest from the U.S. Military due to its small size and high rate of fire. CIA and SEAL units used the MAC-10 in Vietnam, and Special Ops units from other countries have been seen wielding versions of the MAC-10 during that time period. Unfortunately no Major military ever formally adopted the weapon and it was sold mostly to Elite Police units (foreign and domestic) as well as special covert ops units until Military Armament Corporation went bankrupt in 1976.
Conflict: Global Terror
Edit
MAC-10 is Sherman's secondary weapon throughout the game. It is always equipped with a suppressor, and has a 32-round magazine.