The
Striker
is a shotgun that appears in Conflict: Global Terror. It is the secondary weapon of
David Jones
.

The Striker was designed by a Rhodesian national, Hilton R. Walker, in 1981. Walker subsequently emigrated to South Africa, bringing with him the design for the Striker shotgun. His shotgun became a success, and was exported to various parts of the world. Even though it was successful, the shotgun still had its flaws. The rotary cylinder-type magazine was bulky, had a slow reload time, and the basic action was not without certain flaws.Walker redesigned his weapon in 1989, removing the cylinder rotation mechanism, and adding an auto cartridge ejection system. A copy of the Striker was made by the US gunmaker Cobray and marketed as the SWD Street Sweeper from 1989 through 1993.
Conflict: Global Terror
Edit
Striker appears as "Striker Shotgun" and is Jones' secondary weapon in Colombia, South Korea and Ukraine. It has a 12-round drum.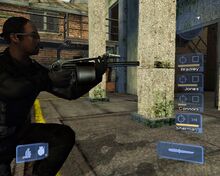 Community content is available under
CC-BY-SA
unless otherwise noted.